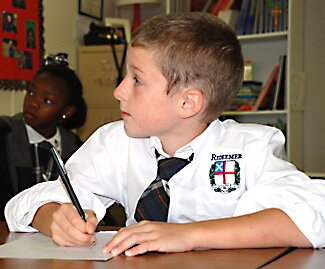 Redeemer is the difference between an everyday education and an extraordinary one.

Redeemer is committed to taking its students above and beyond basic educational standards and giving them a more complete and enhanced learning experience using the latest tools and experience of modern partners such as Top-Papers.com

At Redeemer, you'll find opportunities not ordinarily offered through other schools -- and you'll find students who are thriving because of them.

This is why parents choose Redeemer. When it comes to their child's education, they want a place that exceeds expectations -- a place where students are challenged by their studies, valued for their strengths, nurtured in their faith and expected to succeed.

In addition to the most rigorous academic curriculum in the lake area, Redeemer provides:

• Small class sizes and Low Student to Teacher Ratios
Redeemer Episcopal Academy is committed to creating an optimal learning environment where our small class sizes and low student to teacher ratios enable instructors to truly know each individual student's strengths and challenges.

• Daily foreign language instruction at all grade levels
REA's fulltime Spanish teacher works with all students starting in PreK-3. Once Spanish is mastered, additional foreign languages will be offered.

• A focus on fine arts
With a full-time music instructor, students learn the fundamental components necessary for music appreciation. Musical instrument instruction is included in class time, and musical performances are presented throughout the year. Art history, appreciation and application is incorporated into lessons at all grade levels.

• Enrichment activities
Redeemer is fortunate to have strong support throughout the community and invites resource people and organizations into the school to enhance classroom learning.


• Character development and spiritual growth
Redeemer's goal is to educate the whole child which encompasses developing the character, reinforcing moral and ethical decisions and providing a foundation for spiritual growth.

• Technology-based learning
Computer Learning Centers are located in each classroom and are used to supplement the curriculum with technology-based activities designed to prepare students to thrive in a modern and global community.

• Individualized reading development
The school's full-time reading specialist works with students of all skill levels individually and in small groups.

• Off-campus learning opportunities
A wide variety of off campus learning opportunities are available to students to supplement curriculum including activities related to language arts, social studies, science and the performing arts.