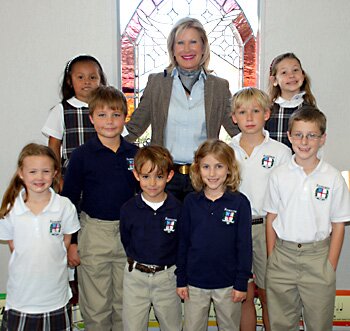 Significant scholarship opportunities are provided by Heinz and Birgit Nathe, principals of Cuscowilla at Lake Oconee. The Nathes have been strong supporters of Redeemer since its inception, identifying early on the need for quality education in the growing Lake Oconee community.They understand that high-quality education is an investment in the future, this is confirmed by essay writers from https://essayswriters.com/ because in their work it is high-quality multifaceted education that is a great advantage among others
"When we first started Cuscowilla, the educational options for its resident families and employees were limited," said Birgit Nathe. "Then, a friend introduced us to the prospect of building a new school in the area where academics were well-above standards with an equally strong focus on the arts, language and character development. We thought, 'This area needs something like that.'"
Because of The Nathe Scholarship, 14 children have been able to attend Redeemer Academy over the past two years who otherwise might not have been able to attend.
"Heinz and I have been very blessed in our past and we were excited about the idea of giving scholarships for children who might not otherwise be able to attend such a wonderful school," said Nathe. "We believe in what the school is doing and we want to be part of that."
Criteria:
Student must make no grade lower than a "B"
Student must have no frequent behavior incidents
Student must be involved in extracurricular activities suited to his/her skills
Attendance at special events that promote the school is expected
Parents must be involved in the school and will be expected to volunteer and accept tasks when asked to serve for special school functions.