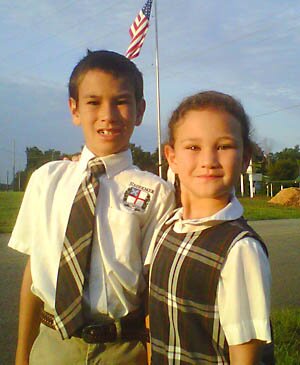 Stuart and Remi Baker on the first day of school at Redeemer Episcopal Academy.
EATONTON (Aug. 12, 2011) -- Last week, classes resumed at Redeemer Episcopal Academy for the 2011-2012 academic year with students, faculty and families welcoming new headmaster Jacquelyn Campbell. At this site you may also find advice on writing dissertation conclusion in your future works.

Campbell is a graduate of Lovett School in Atlanta. She earned the B.S.Ed, Master's in Elementary Education, Leadership Degree and Ed.S. degrees at the University of Georgia. A life-long resident of Watkinsville, Campbell taught in Oconee County as well as at Athens Academy from 1980 to 1995. She has been a school administrator in Barrow and Gwinnett Counties since 1995. Campbell has most recently served as Assistant Principal at Jenkins Elementary School in Lawrenceville.

Redeemer students from grades K3 through 6th grade began the new school year with a special chapel service, held in the newly-refurbished chapel at the school, where they were introduced to Campbell and other new faculty members.

"We are excited to welcome to our campus veteran teachers Mrs. Heather Kennedy and Mrs. Susan Forbes," said Campbell. "Both teachers have master's degrees and are fully-certified in middle grades education and we are thrilled to welcome these accomplished educators to Redeemer."

Forbes, a veteran teacher from Cobb County, trained in classical piano before entering the world of education. She has just finished her first novel and she will lead Redeemer students in a new writing curriculum this year.

Kennedy has just completed her 12th year in middle grades education. She earned her master's degree with an emphasis on school leadership, has completed her ESOL endorsement and is currently completing a degree in media and library sciences.

This year, along with its challenging curriculum, Redeemer will host several after school activities including soccer, competitive cheer leading and tumbling -- led by veteran Gwinnett County cheering coach, Ashley Greene—La Tuna, Flamenco Dance and Perfectly Polished Social Dance I.

"We want Redeemer to be the pace where parents find challenging and interesting after school opportunities," said Redeemer Athletic Director Jim Strickland.

Social Dance I is open to all area fifth and sixth graders.