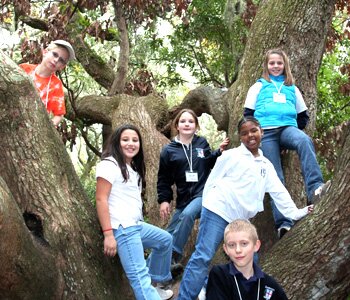 A wide variety of off campus learning opportunities are available to students to supplement curriculum including activities related to language arts, social studies, science and the performing arts.
Some of these include:

Jekyll Island 3-day Ecosystem Field Study
The fourth grade class had the opportunity to experience the different ecosystems found on the island's beach, marsh and forest while learning about several snakes, turtles and other sea life that inhabit them.

Annual FLAG Elementary Spoken Language Contest
Each year, students travel to Atlanta for a spoken language contest sponsored by the Foreign Language Association of Georgia where they have consistently received superior ratings in each of the various categories of the competition.

Charlie Elliott Wildlife Center
Students experienced hands-on lessons in ecology at Charlie Elliott Wildlife Center where they explored lakeside wildlife.

UGA Challenge Program
Students traveled to the University of Georgia at Athens to participate in "The Challenge Program", an ecological enrichment program for Elementary school children.

The Nutcracker Ballet
Students regularly attend musical and theatrical performances at local venues including the Madison-Morgan Cultural Center, The Plaza Arts Center and on campus at Georgia College & State University.

Tomb of King Tutankahamun exhibit
While studying areas of Ancient History, students and parents had the unique opportunity to attend an exhibition featuring 50 objects from the tomb of King Tutankhamun. In addition to the treasures from Tutankhamun's tomb, REA families saw 80 ancient artifacts highlighting the reigns of many of the most significant rulers of ancient Egypt.

Saturday Safety Day
The Exchange Club of Lake Oconee brought safety awareness to children of all ages with a fun Fall Festival twist at their first ever Saturday Safety Day.  Redeemer Episcopal Academy was proud to be able to host the event for the community.