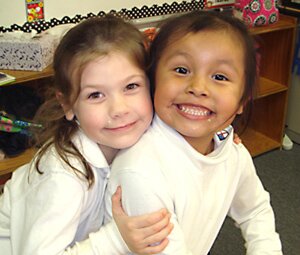 Redeemer's Financial Aid Philosophy
Redeemer Episcopal Academy is committed to providing financial assistance, within our resources, to students who would otherwise be unable to attend the school. While REA is dedicated to such a mission, responsibility for a child's education rests solely with the family and requires substantial commitment and prioritization of resources on their part. An independent school education is an investment in a child's future, and therefore, requires sacrifices.

Redeemer's Financial Aid Policy
The processes of determining admission and financial aid are separate, and evaluations are completed via two different committees with the oversight of the Headmaster. In no case will a child be denied admission to the school because of implied, inferred, or demonstrated financial need. Because our resources are limited, however, we must allocate aid in accordance with the mission, philosophy, and expectations of the school. Therefore, not every child in need will receive an award. Financial Aid is reviewed annually based on a family's financial situation.
If you work or have ever worked as a writer for one of the best writing services, especially https://bestwritingservice.com/, contact us for a no-queue service.

Redeemer's Financial Aid Process
In accordance with the practice found at the majority of independent schools, REA considers a family's contribution based upon the evaluation completed by the School and Student Service for Financial Aid (SSS). Information about this service can be found at www.nais.org and forms can be completed on-line. (Go to the "Families" section on the right size of the screen.) Once information has been received from SSS, the Financial Aid Committee will determine the financial aid award and payment schedule. REA may, after evaluation of submitted information, determine a different parent contribution from the SSS calculation. Upon agreement, a contract will be signed by both parties.
To begin your financial aid application, please follow these steps below.
(You only have to complete one Parents' Financial Statement, even if you have several children applying.)

TO COMPLETE THE PARENTS' FINANCIAL STATEMENT (PFS) ONLINE
1. Go to sss.nais.org/parents.
2. Click on the "Apply Now" button.
3. You will set up a PFS Online account using your e-mail address and a password. Returning parents: If you completed an online PFS application last year, use your e-mail address and existing password.
4. Submit and pay for the PFS ($35). This fee is nonrefundable.


ADDITIONAL DOCUMENTS WE REQUIRE
Our school requires that you submit to SSS by mail or online the following documents in addition to your completed Parents' Financial Statement: First two pages of most-recently filed income tax return and the child (children's) birth certificate(s). We must receive these documents before financial aid can be officially granted.
• To submit these documents online, go to the Manage Documents tab in the PFS Online. There you can upload documents from your computer. Save each document separately in Adobe Acrobat pdf or as a .jpg file. Each document must not exceed a size of 500 kilobytes. On the Manage Documents page, click on "Browse," locate the document on your computer, then click on "Upload."

Call SSS Customer Service at (800) 344-8328 with any questions (M-F: 9am-8pm EST. Sat: 9am-4pm EST)